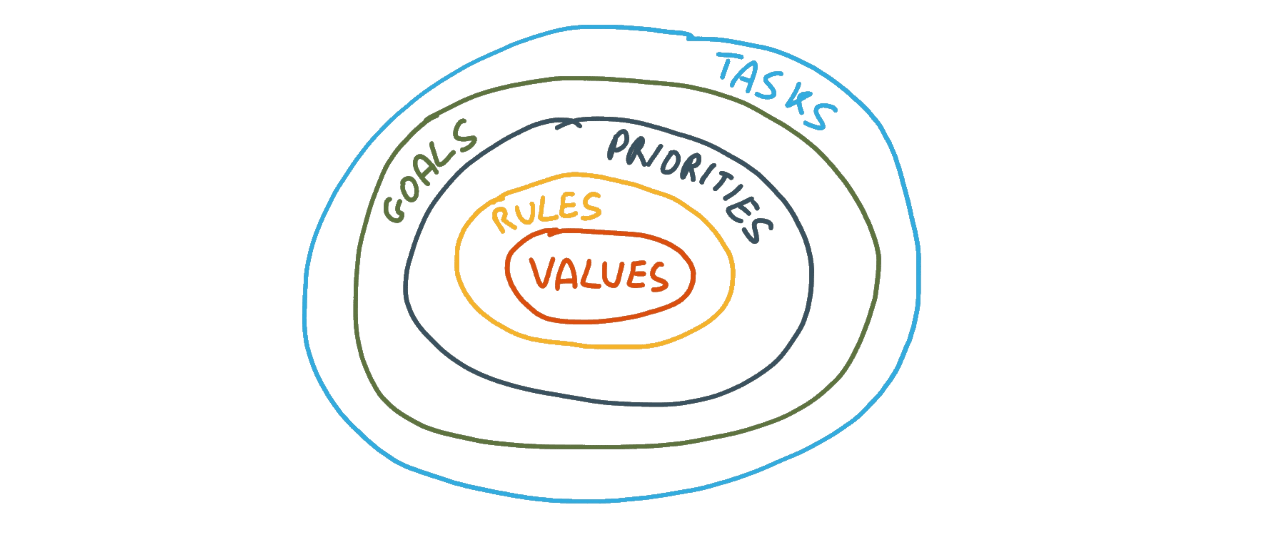 Recently, while I was listening to the radio I heard an interview with Florence Welch from Florence and the Machine. She said that recording the third album is the hardest task because after the first album, in which you're searching for your own style, and the second album, in which you've found and mastered that style, everyone expects that the third album will be something new and fresh. That it won't be the same as the previous ones. I wonder if it is similar with a third blog post ;)
Today I'm going to write about my productivity system. I will treat this post as a kind of table of contents that lists all the components of my system. The description of each point I will add over time as separate blog posts.
The components that make up the center of my productivity are:
the values that are the most important for me,
the main rules that I use to make choices in everyday life,
the priorities in different areas of my life,
and the long term goals that are related to the above points.
Then there are the apps that I use to manage my productivity:
Nozbe – an application that implements David Allen's GTD guidelines, and is the main application I use everyday;
Goalscape – an application that allows me to write down and visualize my long term goals, which I also use to track the status of those goals;
OneNote – I use this application to store and manage all my notes.
The last but equally important part of my productivity system are the habits and techniques that I implement and use regularly to reach my goals:
daily planning sessions for the day,
week review,
the pomodoro technique,
visualization techniques,
rules for efficient meetings.
The current "look & feel" of my productivity system is a result of three years of work. Marcin Kwieciński's workshop called "Embrace the Chaos" had the biggest impact on it. He helped me to change the way I work by streamlining my system and introducing new techniques to improve it. Like the technique described in last post.
What I do now is only fine-tune the system to my needs. I read a lot about productivity and try to be on top of all new discussions on the subject (like the technique I described in the last post).
I will elaborate about each point I listed above in a separate post. Stay tuned!