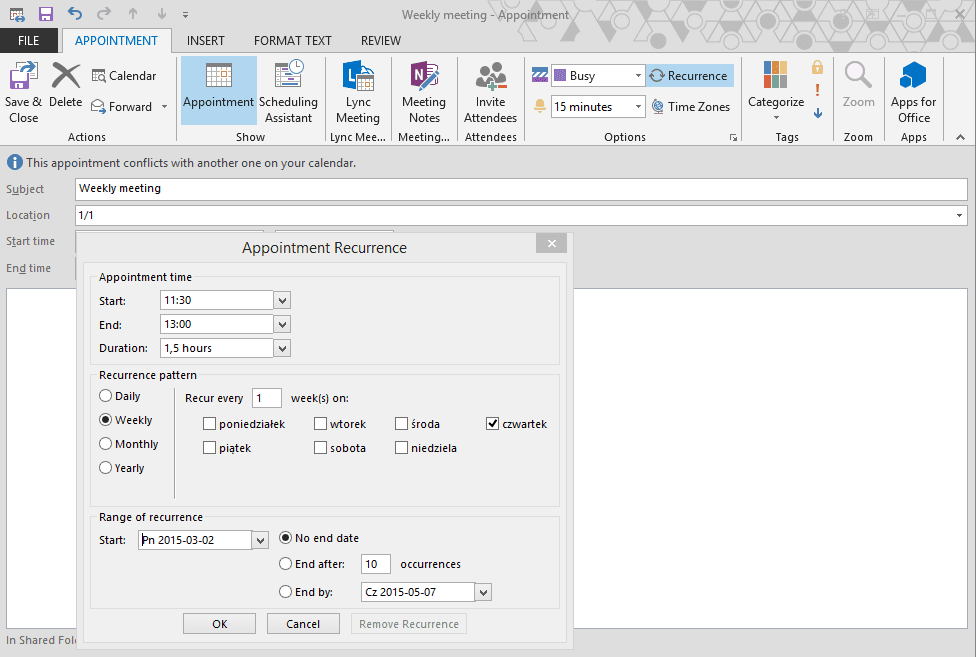 We all have them – recurring meetings. They are in your calendar. Someone invited you to these meetings a long time ago and they just repeat every day, week, or month. Very often they do not have any meaning, yet they are in your calendar so you attend them. And you usually waste your time. What can you do about it? You can tame such meetings! How? Start by reading this post.
There are a few things you can do to make the most of of such meetings. And it does not matter if you are the organizer of a meeting or an attendee. Stop wasting your time in meetings that have no added value for you. How can you do this? You can find a few tips below:
Challenge the agenda of the meeting – A day or two before the next recurrence of the meeting, check if there is an agenda defined for it. Send a short e-mail to the organizer with the question "What will the topic of the meeting be?" If you don't receive an answer or the answer is "There is no agenda," politely but firmly say that you won't attend it. You can do the same as an organizer. Contact all invited people and ask if they have anything for a meeting. Unless you have an agenda prepared, tell them that if you don't receive an answer by the given time you will cancel the meeting.
Challenge the frequency of the meeting – Do you have a meeting that recurs every week, but there are rarely enough topics to talk about, so you keep canceling the meeting? Change the frequency of the meeting. For example, do a biweekly one. Suggest this to the person that created that meeting.
Suggest a main topic for each meeting and a person responsible for preparing it – If the meeting ends up with just talking about random things and the group still insists on meeting regularly, you can propose to have a main focus for each gathering. That way, there will be at least one subject to talk about and your time won't be wasted. Always ask to nominate one person to prepare the main topic. Then everyone will be engaged from time to time.
Challenge the length of a meeting – What you do usually takes as much time as you plan for it. That means that even if you have a defined agenda that could be done in 30 minutes and the meeting is scheduled for 60 minutes, you'll fill the whole 60 minutes.. If your observation is that the meetings are planned for a longer time than you really need, ask to make them shorter. You will manage to finish everything you need to, and you won't waste any extra time.
I did the above things and changed a few of the recurring meetings I usually organize. Now we spend less time stuck in meetings, and these meetings are more to the point. We know why we meet and what we want to discuss. And now I try to ask the same of organizers of other meetings.
Can you share how you deal with recurring meetings? Do you attend them?